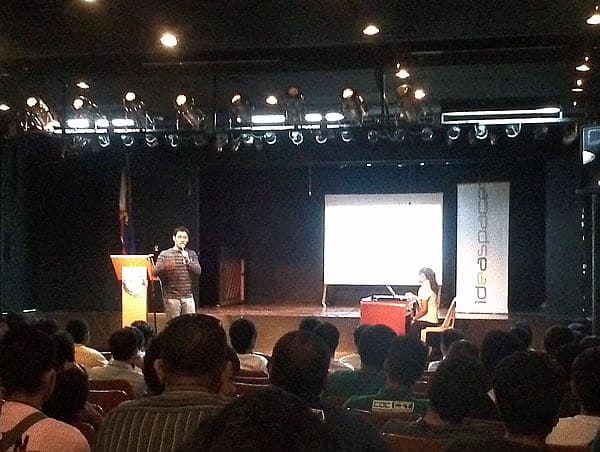 Happening today at the Xavier University Little Theater is the IdeaSpace Technopreneur Boot Camp. The Technopreneur Boot camp is an event for all those who can develop groundbreaking technology solutions and transform them into successful commercial products. This Boot Camp is spearheded by IdeaSpace Foundation, Inc., in partnership with Xavier University – Ateneo de Cagayan, CDO ICT Business Council, DEVCON and Smart Communications.
The Rationale of the IdeaSpace Technopreneur Boot Camp:
IdeaSpace Foundation, Inc. (IdeaSpace), is a private organization that support technology entrepreneurs in the Philippines. This non-profit foundation implements a business idea pitch competition that aims to find the best and potential Filipino "technopreneurs" with great business ideas that promise the potential of global and national commercial market.
The IdeaSpace Technopreneur Boot Camp and business idea pitch competition targets to get start-up ideas that cover the industries of food, healthcare, media, mining, telecommunications, toll roads and transportation, water and power utilities. This program is also open in any technological solutions for other industries as long as it has the potential to be useful nationally and globally including agriculture, education, etc.
This business idea pitch competition of IdeaSpace has been conducted in many regions in the Philippines and finally now here in Northern Mindanao.
This event is open to all students, early graduates, professionals and aspiring startup founders in the Northern Mindanao Area.
Participants are part of a team composed of 2 to 3 members only. The team has a technical lead (a developer/engineer) and a business partner (domain expert/product manager/marketing) and a designer (for graphics). The team should come up with possible innovative technology ideas that have the potential for commercial success.
The best business technology ideas will be recognize, awarded and will win cool and exciting prizes. On top of that, winners will have the possibility of turning their great idea into market reality through the support of IdeaSpace founders and partners.
The Technopreneur Boot Camp is attended by business professional speakers and mentors from different industries as well as technopreneurs and venture capitalists to share their expertise on various technopreneurship topics.
Dustin Masancay – Associate Director of IdeaSpace Foundation, Inc. who will talked about what is IdeaSpace Foundation.
Carlo Calimon – Co-founder of MobKard who will talked about Spotting Opportunities
Philip Adrian Atilano – Co-founder of TimeFree Innovations who will talked about Business Model Canvas
Rina Malonzo & Trina Dela Rama – Founders of Portfolio MNL who will talked about Creating a good Brand
Engr. Elpidio Paras – Proprietor of the local cable operator Parasat Cable TV who will talked about Start-up Success Story in the Technology Industry.
Mentors:
Stephanie Caragos – Co-founder Syntactics, Inc.
Todd Grannis – Co-founder VISP
Gus Rodano – Co-founder Red Lemon Media
Chris Ian Fiel – Co-founder JuanPay
Emon Reyes – EVP-COO, COC-PHINMA